A brand is the most important thing a business can invest in. Well, that and a beer donkey that roams the hallways on Fridays. Before a company can reach people on a personal level, it has to decide what it stands for and what it means in the hearts and minds of its audience. We help clients define who they are and deliver it in a way that sticks.
We've searched high and low to put together our award-winning band of misfits. Sure, some of them are a little weird but they're the cream of the crop, an elite group of problem-solvers that would be impossible to duplicate anywhere else. Think of them as the A-Team... if everyone was Mr. T.
Bro, do you even code? We design and develop online experiences for our clients each and every day. We stay ahead of the curve and constantly look for original ways to serve our clients. Everyone here has UX on the brain and java script in their veins. Doctors call it a bizarre medical condition, we call it a recipe for success.
Don't let the cool exterior fool you, we're data nerds at heart. Our brand strategists love digging into research that helps them discover new directions to take our clients. While other agencies might chock up a brand's success to pure luck, our Type A analysts will deep dive into the data and deliver insights to plan your next move. Checkmate, suckers.
We don't just talk a big game, we show it -- in eye-catching, high-impact videos where quality and content come together to hit your right in the feels. Our production team works on sets big and small -- from commercials to Kickstarter videos, tutorials to short films. Hell, these guys could even make your dad's GoPro failures look Oscar-worthy.
Wishing you could get as much action as a cat riding a Roomba on YouTube? We can make that happen. Our team of experts eat, sleep, and tweet social media. Whether it's boosting awareness, increasing engagement, or working with the right influencers to promote your product, we use the best analytic tools and platforms to elevate your brand.
Being a full service agency doesn't mean we pump your gas for you. It does, however, mean that we have a media department and a creative team that work in tandem to reach the right people at the most opportune moments. Sure, we like big budgets and we cannot lie but we also love working with the underdogs, the mom and pops who want to spread the word without breaking the bank.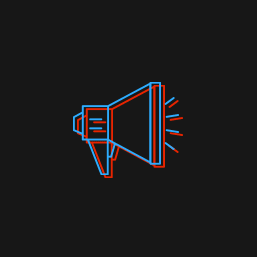 Whether you're riding the hot mess express or simply trying to launch your next startup, we specialize in making you look damn good. From getting a niche community buzzing to breaking the internet, we know what it takes to make the right impression. Kim Kardashian's got nothing on us.